LANmark-6 Evo Snap-In Connector Category 6 Unscreened Stranded Wire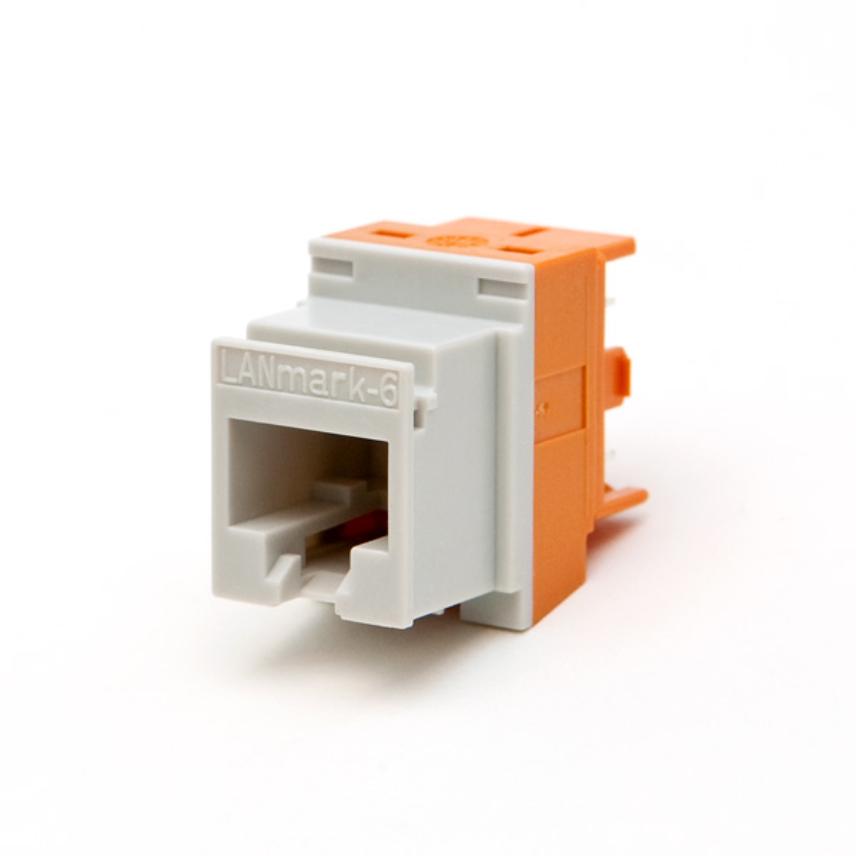 Category 6 Snap-In connector for CP to TO links
Unshielded version
Orange back housing allowing easy distinction from solid version
Fast and easy termination without punch down tool
Wiring according to colour code T568B or T568A
Accepts stranded wire from 26 to 24 AWG
Reterminable
Supports POE Plus applications (15 Watts per pair)
An adapter can be added to fit the keystone format
Meer
Beschrijving
Beschrijving
Normen
Internationale normen

IEC 60603-7-4; IEC 60603-7-5; IEEE 802.3af (PoE); IEEE 802.3at (PoE+); ISO/IEC 11801
Application
Nexans LANmark-6 Evo Snap-In connectors are manufactured and tested to the latest Category 6 specifications defined in the International and American cabling standards and are designed to meet and exceed the quality and performance criteria needed to support all applications up to 250 MHz.
10 BASE-T Ethernet
100 BASE-T Fast Ethernet
1000 BASE-T Gigabit Ethernet
155 Mb ATM
622 Mb ATM
1.2 Gb ATM
Future Class E applications
Design
Nexans LANmark-6 Evo Snap-In connectors are designed to match with LANmark-6 cable and patch cords and to complement all LANmark modular components, such as:
Snap-In patch panels (fixed, sliding and angled) and Zone Distribution Boxes
Snap-In outlet modules (UK, US, European and German style)
Performance
Nexans LANmark-6 Evo Snap-In connectors meet and exceed the requirements for Category 6 connecting hardware as described in ISO/IEC 11801, IEC 60603-7 and EIA/TIA 568-C.2.
Installation
The wire organiser guarantees fast and easy termination of the LANmark-6 Evo Snap-In connector without the need for a punchdown tool. An optional comfort tool (N420.567) can be used to increase the ease of installation.
Guarantees
The LANmark-6 Evo Snap-In performance is guaranteed to meet or exceed the requirements of the above mentioned standards.
Traceability codes on both connector and packaging ensure quality validation.
Installations with LANmark-6 cable and connectivity are qualified for a 25 year full system warranty, which includes Parts, Installation, Channel Performance and Application Support, as described in the Nexans Certified System Warranty.
Electrical performance
Mechanical and electrical characteristics

Karakteristieken
Karakteristieken
Gebruik
Gebruik
Gebruikstemperatuur, maximum
Gebruikstemperatuur, minimum
Bijkomende informatie
Bijkomende informatie
Onze websites
Kies het land voor lokale producten en oplossingen